Delhi: Bharat Bandh call chokes borders amid tight vigil | Delhi News – Times of India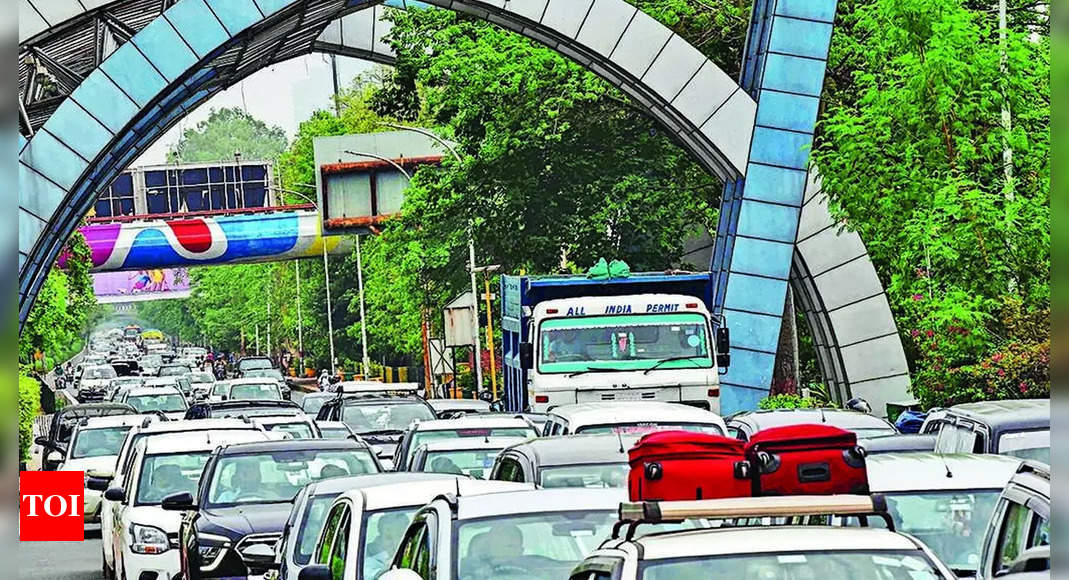 NEW DELHI: In the wake of the Bharat bandh call given by the
Indian National Congress
to protest against the central government's Agnipath scheme and what the party called the harassment of Rahul Gandhi by the Enforcement Department, Delhi Police kept a tight vigil on Monday to thwart any attempts at disrupting law and order in the city.
Many sensitive points, including the DND flyway, experienced heavy traffic jams due to police restrictions on the roads. Police teams were also stationed at important locations like the airport, bus terminals, railway stations, government offices and markets.
Delhi Police spokesperson Suman Nalwa, DCP, said, "We have made arrangements to ensure nothing untoward happens. There is no Bharat bandh in Delhi. We are keeping an eye on antisocial elements. The borders aren't closed but we are maintaining a strict vigil."
With train movements in many states affected by Agnipath protests, stations had to be secured. Harendra Kumar Singh, DCP (Railways), said, "We deployed adequate personnel at the city stations in close coordination with the Railway Protection Force."
At Shivaji Bridge station, 16 protesters were arrested for obstructing the passage of a train, where the Youth Congress was protesting both against the Agnipath scheme and the interrogation of Rahul Gandhi by ED. The ACP (Railways) and SHO of New Delhi Railway Station reached the spot, and jointly with RPF, removed the agitators from the railway tracks.
Police pickets were put up at many places, particularly at the border crossovers, to check vehicles and their occupants. This caused traffic to slow down in various parts of the capital. Heavy jams were seen on the DND Flyway and Meerut Expressway and at Anand Vihar and Sarai Kale Khan bus terminals.
The Sirhaul border in Gurugram was the worst-affected, with vehicles stuck there for almost four hours till 11am. From around 7am, Delhi Police personnel checked every vehicle for papers and ID cards and enquired if the occupants were headed for Jantar Mantar. While those on their way to offices or the airport were allowed to pass, those who said they wanted to reach Jantar Mantar were detained at Vasant Kunj police station.
Traffic was also diverted to prevent jams. "We asked commuters to use alternative routes, like Mehrauli-Gurgaon Road, Faridabad Road and Kundli–Manesar–Palwal Expressway," said DCP (traffic) R S Tomar. "Traffic coming from the direction of Jaipur was diverted to KMP through Panchgaon." The Government Railway Police deployed additional forces at the stations in Farukhnagar, Gari Harsuru and Pataudi.
At the three border points in Noida — Kalindi Kunj, DND Flyway and Mayur Vihar — traffic moved at snail's pace. Ganesh Saha, DCP (Traffic), said the cops were out in force to guide the commuters. "Vehicles moved slowly because of checks by Delhi Police at the borders. But ambulances and emergency vehicles faced no problems," said Saha.
Delhi Traffic Police remained busy on social media updating commuters about the traffic situation. On Twitter, the cops said buses had been restricted in New Delhi beyond Gol Dak Khana junction, Patel Chowk, Windsor Place, Teen Murti Chowk and Prithviraj Road and advised motorists to avoid the roundabouts at Gol Methi, Tughlak Road, Claridges, Q-Point, Sunehri Masjid, Maulana Azad Road as well as Janpath, Man Singh Road, Motilal Nehru Marg and Akbar Road between 8am and noon.
Depender Pathak, special commissioner (law & order), claimed that adequate security and traffic arrangements were put in place to prevent arson or anti-social activities.
"We have deployed staff in adequate numbers to ensure Delhi remains peaceful," he said.