Tiff over smoking: Food delivery executive stabbed to death in Delhi's Tilak Nagar | Delhi News – Times of India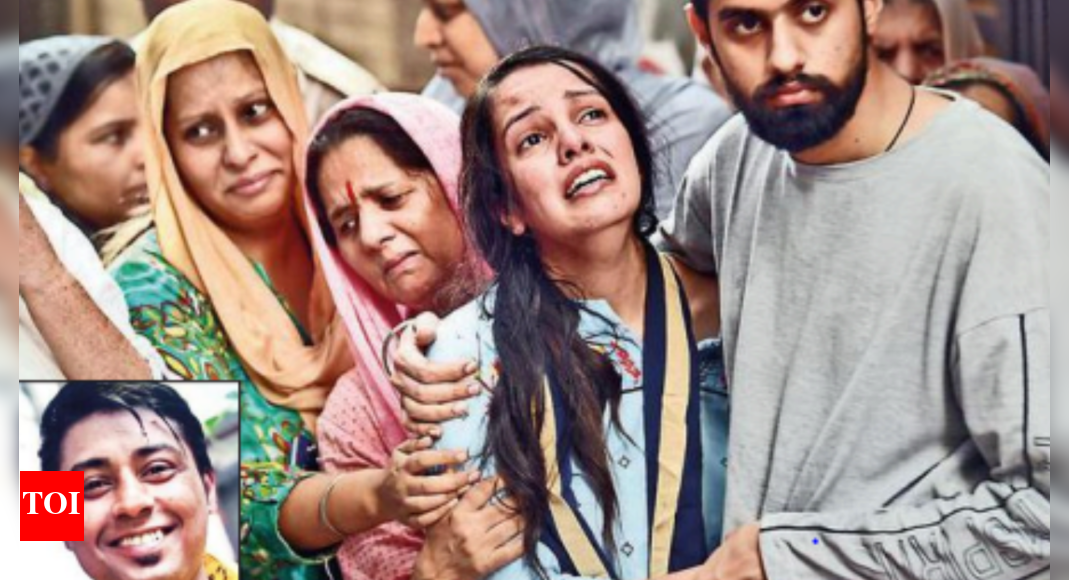 Grief-stricken wife Komal (centre) and other relatives look at the body of Sagar (inset), who was stabbed to death in Tilak Nagar
NEW DELHI: A 29-year-old food delivery executive was stabbed to death with a kirpan and then thrashed with bricks allegedly by two Nihang Sikhs in West Delhi's Tilak Nagar area on Wednesday. The victim identified as Sagar Singh was purportedly smoking a cigarette when the nihangs objected to it. A quarrel started between them and one of the nihangs allegedly attacked Singh.
Police arrested one of the accused within 24 hours of the crime while the other, too, has been identified and raids are being carried out to nab him.
Singh's family members alleged that he was lying in a pool of blood for around 15 minutes, but no one stepped forward to help him. It was only later that another delivery agent spotted him and rushed to help him. Sagar resided in lane number-10 in Krishna Puri area of Tilak Nagar while the restaurant where he was picking up his first delivery of the day was in lane number-13, barely 2-3 kilometres away from his house. As per the victim's brother-in-law Mohanlal, he would usually work during the night so as to get more orders.
"He picked up the order from a rolls joint and was smoking on the opposite side of the road when the nihangs objected to it. Some argument happened and he was stabbed. He then collapsed near the restaurant. He kept lying down for 15-20 minutes, but no one came forward to help him," said Mohanlal.
On Thursday, when TOI reached the crime scene, locals said that the nihangs were eating their rolls when they had a fight with the victim.
The delivery agent who stepped forward to help Sagar has been identified as Asif who knew him for a long time. "I had come to pick up my order from the same rolls joint when I saw him lying in a pool of blood. A small hospital was 400 metres away, but no one took him there. Some people were trying to call the police but it was not connecting for some reason. Sagar's phone was ringing and the customer was calling, so I informed him about the incident and asked him if he could try calling the police. The call went through and the police arrived. I informed Sagar's wife and called the ambulance, but at the hospital, doctors told us that he was dead," said Asif.
Recalling his friendship with Sagar, Asif said he was a simple man. "He was calm and did his work diligently, never picked fights or argued," Asif further added.
According to the police, the incident occurred around 12:30am on June 15. Ghanshyam Bansal, DCP (West), said: "A case of murder was registered and teams were formed to trace the accused men. Within 24 hours, the alleged was arrested. He has been identified as Harshdeep Singh 22, a resident of Chander Vihar area. The weapon of offence has been recovered. The other accused, too, will be nabbed soon. Harshdeep worked as a welder and the victim and the accused were not known to each other. He was stabbed on the left side of his chest."
"The incident is unfortunate to say the least. We are in touch with the family of the bereaved and have extended all possible support that we can," said a Zomato spokesperson.
The deceased is survived by his wife and a 10-year old son. Sagar had lost his parents at a young age.
FOLLOW US ON SOCIAL MEDIA
FacebookTwitterInstagramKOO APPYOUTUBE